My Flying Dream
This CD is a recording of my most recent compositions with the exception of Fireflies in a Jar and Earth in Sight, both of which were written over ten years ago but never recorded in a definitive way until now. I am fortunate to have gifted and sensitive musicians playing on my ensemble compositions.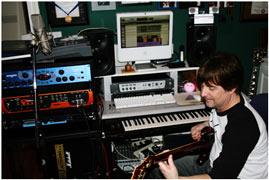 Fritz Martin
Fritz Martin is one of the most fluid and rhythmic bassists anywhere, and his contributions to my songs are essential.
Maulty "Tuff" Jewell
Maulty "Tuff" Jewell's performances are amazing, challenging everyone to match his excellence.
Stan Jones
I often look to Stan Jones, when I can get him. His mastery of drums drives the band, and those are his screams heard in the background on Earth in Sight.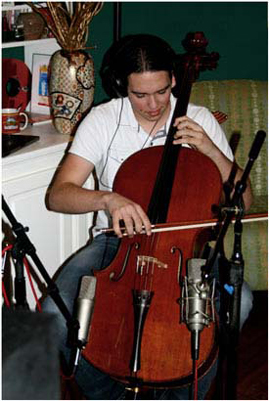 Nathaniel Smith
My friend Nathaniel Smith dropped by on his way to re-inventing the cello, and lent his bowed wonderment to the title cut My Flying Dream. Check out more of Nathaniel at www.nathanielsmithcello.com.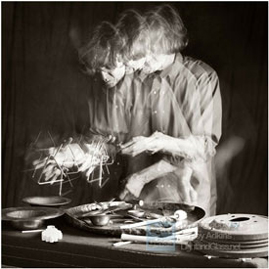 Bruce Golden
Whenever I need someone to beat on anything that might be lying around, and make it have a great tone, there's only one choice: Bruce Golden. Violin bow on a cymbal, playing a pattern on a drawer from a chest, these instruments are the norm in Bruce's world. His is one of my favorite worlds to visit.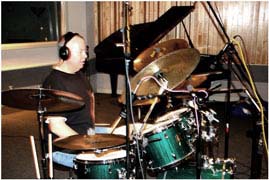 Dave Cummings
Dave Cummings' drum skills are solid and time accurate, and he was a perfect choice to play on Zawinul Sunday Morning, a song that I wrote as a tribute to the great composer, Josef Zawinul, a master that gave so much to our world.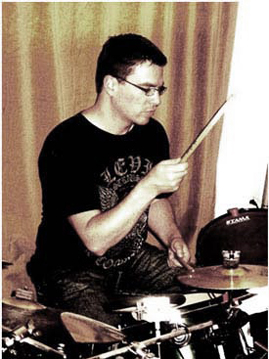 Eric Perry
Sailing to the Sun starts out wide open and then continues to gain momentum. Master drummist Eric Perry sets the dial on eleven and everyone has to hold on. There are three bassists on various parts of this song. I play bass on the beginning and the end, with Fritz Martin in the middle and Chase Everett adding sub bass tones throughout.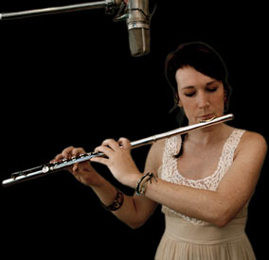 Emily Everett
Emily Everett contributes her mellifluous flute playing to Zawinul Sunday Morning and she defines the melody beautifully. She also adds vocal FX to Sailing to the Sun to great effect.
Chase Everett
Chase Everett adds his tasteful sub-bass tones to Sailing to the Sun.
Skylight and Two Friends Talking, with Tuff and Stan, are my quartet pieces with me playing bass. Honey Island Swamp is a real swamp in Louisiana and now it's also a song. I tuned my acoustic guitar down in pitch to the point of flapping, to get a dark and mysterious timbre that I felt this song needed to convey the aural image of this place.
In Crop Circle Farmer, Bruce beats on objects not designed to be beat on, and Fritz plays his lilting bass, still leaving me room to wring out my guitar.
I've always liked summer rains and thunderstorms. The last song's title started as a typo of "and the rain began" and became Anndarain Began. Without being literal, Bruce's masterful percussion implied sheets of rain falling, adding atmosphere to the song.
The making of this album was great fun, as was having such skilled musicians working with me to make my songs fully realized.
My Flying Dream (6:30)
Cellos - Nathaniel Smith
World percussion - Bruce Golden
Guitars - Randy Everett
Earth in Sight (5:16)
Piano - Maulty "Tuff" Jewel IV
Bass - Fritz Martin
Drums - Stan Jones
Guitars - Randy Everett
Fireflies in a Jar (5:45)
World percussion - Bruce Golden
All instruments - Randy Everett
Sailing to the Sun (3:06)
Bass - Fritz Martin
Intro bass - Randy Everett
Sub bass - Chase Everett
Drums - Eric Perry
World percussion - Bruce Golden
Vocals - Emily Everett
Guitars - Randy Everett
Skylight (5:13)
Piano - Maulty "Tuff" Jewel IV
Drums - Stan Jones
Guitars - Randy Everett
Zawinul Sunday Morning (5:37)
Bass - Fritz Martin
Drums - David Cummings
Flute - Emily Everett
Guitars - Randy Everett
Honey Island Swamp (4:47)
Drums - Stan Jones
World percussion - Bruce Golden
Guitars - Randy Everett
Two Friends Talking (4:28)
Piano - Maulty "Tuff" Jewel IV
Drums - Stan Jones
Guitars - Randy Everett
Crop Circle Farmer (4:11)
Bass - Fritz Martin
World percussion - Bruce Golden
Guitars - Randy Everett
Anndarain Began (5:36)
World percussion - Bruce Golden
All instruments - Randy Everett
©2010 Randy Everett All Rights Reserved
©BMI Publishing